Yogurtini Self-Serve Frozen Yogurt Franchise
Objectives:
Yogurtini Self-Serve Frozen Yogurt was a one-standing store in Tempe, AZ, looking to sell franchises around the country. The Golden Arrow team worked on branding and creating awareness of the success of Yogurtini to the press around the country to spur interest and attract buyers in the viability & financial success of the franchise company (YHI, LLC). Attract the interest of large corporations for potential mergers or acquisitions.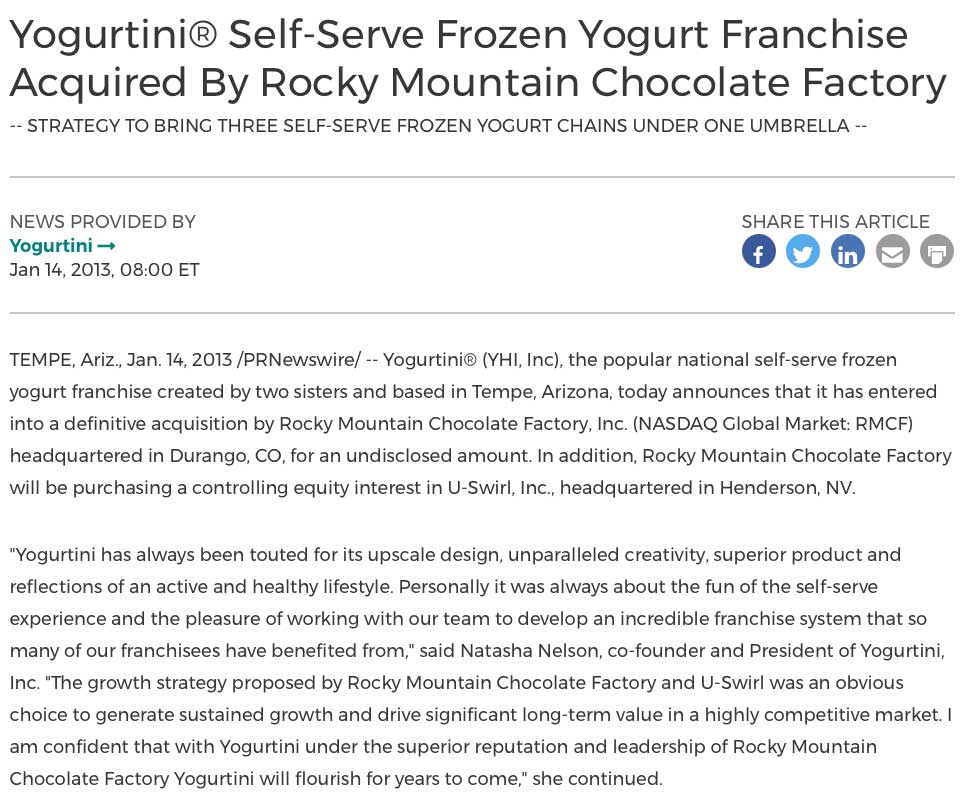 Success:
Generated press in The Wall Street Journal, CNBC, FOX, CBS, Inc. Magazine, Entrepreneur Magazine, among hundreds of others.
Founders were featured in hundreds of blogs, podcasts, and local business publications nationwide.
Yogurtini/YHI, LLC  dominated page 1 of Google for multiple search terms across the country for those searching for franchise opportunities. Generated thousands of online requests for purchasing a franchise.
Sales videos circulated on YouTube generated thousands of sales leads.
Over 20 franchises were sold and opened in over two years. Marketing and press campaigns attracted interest from multiple large corporations. YHI, LLC (Yogurtini)  sold to The Rocky Mountain Chocolate Factory.
Solution:
Massive nationwide PR campaign to top business publications in print and online focusing on the founders of the company and their massive success during the rising popularity of the self-serve frozen yogurt. Activate social media, youtube sales videos, press pitching, and SEO campaign.
They have organized "Yogurtini franchise" events at hotels in major cities across the US where interested parties could attend a presentation, meet with owners and executives to learn more.
Activate social media, youtube sales videos, press pitching, and SEO campaign.
Local: Created an "in the box" PR campaign for each new store location in each local demographic and supported each local franchise with media relations and grand opening events. Upon purchase of a franchise, support franchisees were provided with marketing materials, point of purchase materials, and training materials for owners and employees.