Brand visibility is vital in highly specialized sectors such as healthcare. As an experienced healthcare PR agency, we can help you articulate and send your message to your patients. Professionals in the healthcare industry need to cultivate a positive relationship with their clients.
Healthcare professionals are busy individuals dedicated to providing their patients with great care. This means they do not have the time to deal with external perceptions of their practice. Still, we live in a digital age where brand perception about healthcare providers' services is vital.
This is where we come in. As a PR agency, we deal with the external growth of your practice, including special announcements, crisis management, and media relations to build public trust.
Contact us today via phone at 949-528-2015 or email: hello@goldenarrowpr.com, and tell us how we can help you.
Our Approach to Healthcare PR
We aim to help healthcare companies reach a larger audience with their message and vital services. Our philosophy at Golden Arrow is to help your brand soar! We understand the sensitivity involved in the healthcare sector. 
This is why we approach developing PR strategies with unique, modern, and sophisticated solutions and tactics. Our professional team, with a combined experience of 50 years, comprises marketing, publicity, communications, social, and writing experts.
Our proficiency in working with startups and established healthcare brands sets us apart from other PR agencies. 
Healthcare PR requires a different approach than other sectors due to its universal applicability. Healthcare affects every individual, meaning eventually, everyone is affected by the latest developments in the industry.
This makes the most significant challenge for healthcare tech PR firms narrowing down target audiences. There are various roles involved in developing successful healthcare tech PR, with a few being: 
Narrowing down the target audience
Developing a successful branding strategy
Informing the public about the brand and firm
Busting tactics to connect with the target audience
Building or rebuilding a positive brand reputation
Healthcare tech PR Firms and Medical Tech PR
Healthcare tech and medical tech firms, both existing and startups, can significantly benefit from a healthcare PR campaign. We can use our expertise and create a PR strategy that helps you reach and market your medical tech device or firm to a broader audience. 
We will discuss the tactics and tools we can use for your brand, and with your agreement, we will implement them in our PR strategy. Here at Golden Arrow, we do everything to help our clients reach their goals and achieve great success.
The Healthcare Industry: Highly Specialized and Regulated Sector
Because healthcare concerns everyone, another challenge in developing a healthcare PR strategy is the strict regulations in medical tech PR. 
These regulations are understandable. PR in healthcare not only keeps the public informed on new medical developments, but it also influences the care provided to patients. 
With our experience developing healthcare PR strategies, we understand misinformation's risks. We know how to find the words you can and should say to articulate your message to the public. 
A positive reputation will keep your brand ahead of the competition while attracting more clients to your services or products. 
The Benefits of Our Healthcare PR
We pride ourselves on providing our client's brands with many benefits through successful healthcare PR campaigns. Some of the benefits of our PR strategy are the following.
Public Information and Education
Public education in PR aims to inform the public about what a company does and why it matters. Healthcare industry terms might need to be clarified for the target audience to understand them, as medical jargon can be confusing. 
We avoid using technical language and medical jargon that can confuse the wider public. Instead, we incorporate an easily digestible language and tone that helps everyone understand your message. It is crucial to deliver messages in a positive light consistently.
Healthcare PR strategies effectively spread information to the general public, especially those who may later become patients, users, or advocates.
Trust
Gaining the target audience's trust is key to a successful healthcare PR strategy. It is best to keep information simple, localized, and user-specific. We incorporate the use of positive media attention to portray healthcare providers and their products in a compelling light. 
Awareness
In healthcare PR, journals and social media posts can be great tools for spreading awareness. Through them, you can share more complicated information without worrying about the potential confusion or boredom of the customer. 
Social media is also a vital instrument in healthcare PR. Making healthcare available on social media is crucial for reaching new clients or patients. After all, everyone requires some type of healthcare at some point in their lives.
Visualization
Infographics and other visualizations are among the best tools we can use to create an excellent healthcare PR strategy. Graphics aid in communicating challenging subjects because they can be complex and difficult to understand. 
With the help of videos on social media, the web, and television, you can demonstrate to customers exactly how to use a specific product you are offering.
Community
When everyone is aware, there is more room to discuss healthcare-related items, services, and products that can assist patients. We can help accelerate the process through healthcare PR campaigns, raising awareness of things like clinical trials and research prospects.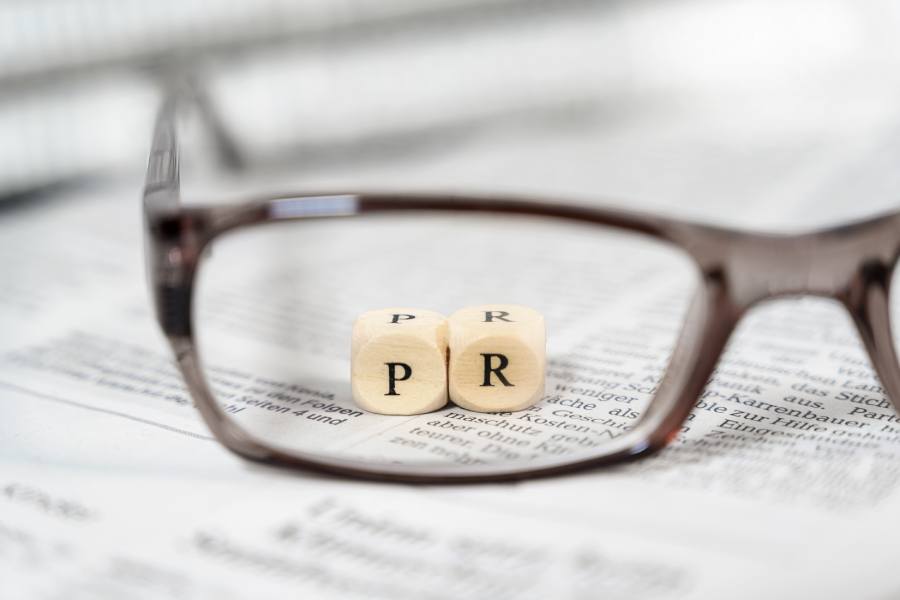 Services We Offer
Here at Golden Arrow PR, we use strategic tactics and tools that build awareness for your brand. At the same time, we help you foster the kind of connection with the public that leads to positive brand impressions. 
We advise establishing your brand identity, voice, personality, message, and values before starting a PR strategy. We offer the following healthcare PR services: 
Digital PR and Social Media
Media Relations
Media relations are another essential part of a successful healthcare PR strategy. We build and maintain connections with important media contacts by creating a compelling story for healthcare brands.
Developing a compelling story entails articulating your brand's message with legitimacy, accuracy, empathy, and immediacy. After the story is ready, we share it with our media contacts across various media outlets.
How a brand's message and story are delivered in the media is crucial to how the public perceives the brand. As a PR agency, we make sure to convey your brand's message honestly and ensure that it connects with the target audience.
Media relations involve working with relevant media outlets to spread awareness of a brand's or a firm's mission, services, policies, and practices. A positive presence in the media helps to build your brand's credibility in the eyes of the public.
Crisis Management
Healthcare crises can take many different forms, from product recalls and medical blunders to cases of infectious diseases and PR disasters. Misinformation can spread quickly online and influence the broader public.
During a healthcare crisis, it is crucial to react quickly and efficiently. In these situations, crisis management's primary objective is to protect reputations and maintain public trust in the healthcare brand or practice. 
We begin by conducting an audit to fully grasp the client's situation, products or services, background, and other information that might pose a reputational risk. 
After that, we offer crisis communication tactics and an in-depth risk assessment. The best action a healthcare brand or a practice can take is to prepare ahead of time to deal with potential crises. The worst you can do is be unprepared. 
How we deal with crisis scenarios 
We aim to help you handle any issue that may hinder your progress. One of our successful stories includes the "Korean Beauty's" ONYX Youth™ Magnet Mask launch. Our challenge was dealing with the market competition and gaining attention to our client's product.
As part of our strategy, we created multiple press campaigns educating the public on the product's benefits.
Other key components of our strategy included:
Social media and influencer outreach campaign.
Our PR campaign achieved natural press coverage for our client's product on many broadcast shows, leading to a significant rise in sales.
Thought Leadership
Healthcare brands and practices often invent new things or come up with workable solutions that the general public needs to be aware of. Our goal is to position your healthcare practice as a thought leader and make your brand clients see you as an information authority in your field. 
We can help you demonstrate your knowledge, innovation, and capacity to respond to your client's needs, positioning you as the best among competitors. You may count on us to establish your healthcare brand as thought leaders. 
Our team will look for chances to highlight your knowledge and distinctive viewpoints. We achieve this by securing media coverage and speaking engagements and strategically putting out thought pieces and perceptive research-driven analysis.
The objective is to build long-lasting connections with stakeholders by presenting your company as a respected and authoritative leader worthy of attention, respect, and confidence.
In a thought leadership position, your brand gains:
Event Management
Our event management services include organizing healthcare-related events, conferences, and webinars. Event management has many moving components that require special attention for a successful organization. 
Event management can help you increase awareness, loyalty, and positive public perception of your brand.
Healthcare-related events can be about:
Attracting positive media attention
Informing clients or patients about new products or services
Attracting new company investments
Because organizing healthcare events requires a lot of effort, we offer our services as part of our healthcare PR. Our strategy in event management includes the following:
Identifying the target audience
Booking speaking guests and industry experts
Coordinating all event aspects
Digital PR and Social Media
No matter what industry your brand is a part of in digital marketing, social media plays a significant role in its success. This means that even in a highly specialized industry such as healthcare, social media presence is a must. 
But, most healthcare professionals do not have the time to spend on social media when they have patients to care for. This is where we come in. Golden Arrow can help you manage your brand's social media presence and develop strategies to reach a wider audience. 
Social media is crucial in healthcare PR strategies as it gives you a platform to initiate direct conversations with the public. We can help you develop a social media strategy by:
Creating engaging experiences
Best practices for content curation and distribution
For a successful digital PR, we begin our strategy by identifying the preferred social media channels of your brand's target audience. By analyzing and understanding the preferences and behaviors of your audience, we develop a content strategy to gain their attention. 
Our goal is to help you engage your audience through informative and interactive content across multiple social media platforms. 
Industries We Serve
Throughout our existence, we have worked with all kinds of brands and practices in the healthcare industry. Our experience allowed us to easily adapt to any niche within the sector. 
Within the healthcare industry, we can help with healthcare PR in the following sectors:
Healthcare and Medical Tech
Why Choose Us
Golden Arrow is a top-rated PR firm due to the high value we bring to our clients' brands and firms. Our agency has been a staple in the PR world for the last 20 years, during which we have: 
Worked with existing brands
Helped rebrand existing products
Our team comprises marketing, publicity, writing, and communication experts with a combined experience of 50 years. By choosing us, you choose a Healthcare PR agency that takes great care of client relationships and works hard to get them exposure. 
We work with our healthcare media contacts to:
Bring awareness,

Third-party validation 

Positive public opinion of your brand
Get in Touch
Golden Arrow PR has offices in Los Angeles, Orange County, San Diego, and San Francisco, CA. Get in touch with us today so we can start building your healthcare PR campaign. You can contact us by phone: 949-528-2015 or email: hello@goldenarrowpr.com.