Heritage Foods Launch of Disney Branded Dairy Product
Objectives:
Educate parents about the importance of DHA in their children's diets and drive trials for the brand's Little Einstein's dairy product.
An omnibus survey was conducted to determine the level of awareness US parents had for the importance of omega-3 DHA to their toddler's eye, brain, and heart development. Results showed that 68% of American parents were not aware of the critical benefits of DHA. A comprehensive PR campaign was created to educate parents about how fortified products make getting nutrients into their children's diets easier.
Elizabeth Somer, a nationally-recognized registered dietitian and a broadcast media expert was identified as a spokesperson who would connect with moms. Elizabeth participated in a 5-market media tour and provided recipes, quotes, and blog posts for various social media platforms.
An influencer outreach program was created by securing first-user moms in critical markets. Influencers spread the brand messages via coupons, sampling, and giveaways at regional events.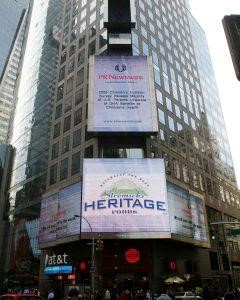 Success:
The brand exceeded projections by 22%, including a 74% increase in case sales. PR results for Heritage Foods included 138M impressions, with more than 700 broadcast, print, and online placements, including "Today Show" and "The View," Reuters, Forbes, USA Today, Washington Post, CafeMom, ModernMom, as well as numerous regional morning shows.